Braun S3 Shave & Style Electric Wet & Dry Shaver , Blue, 3010BT
* Prices Including VAT 15%
The Braun Series 3 is a great electric shaver with 3 shaving elements. It's 100% waterproof, so you can conveniently rinse them under running water or even shave under the shower.
read more
Description

Key Features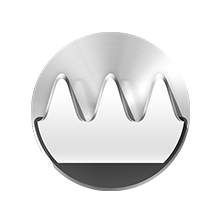 The Effective Triple Action Cutting System
The Braun Series 3 ProSkin electric shaver features the Triple Action Cutting System; A shaving system that consists of 2x Sensofoils that were specially designed to deliver an efficient close shave and a gentle skin experience, and an integrated middle trimmer that effectively cut both long and short hairs with each stroke. The ProSkin is also equipped with the MicroComb technology which features 2 rows of fine, evenly spaced grooves that surround the independently moving middle trimmer. This catches and feeds more hair with every stroke, which gives you a faster shave. Also, its ergonomic grip with the iconic Braun rubber dot pattern provides secure handling, even when used or rinsed running water.

The Triple Action FreeFloat System And More
The Braun Series 3 ProSkin electric shaver feat has three independently moving cutting elements that adapt to your every facial contour and guarantees a smooth shaving experience. It also comes with an extra large built-in precision trimmer on the back, which is ideal for shaping sideburns or trimming beards prior to shaving.
The Braun Series 3 ProSkin is also IPX7 waterproof which means that not only can you use it dry or with foam but you can conveniently shave under the shower and then rinse it under running water when you are done.
Also, The dual Ni-MH rechargeable batteries never lose performance and fully recharges in just one hour and give you up to 45 minutes of shaving time but if you are in a hurry, the quick charge feature offers one shave in just 5 minutes.
Attachments For Even Trims
The Braun ProSkin allows you to attach one of the five attachment combs (1-7mm) for your preferred beard style, and you can also you attach the trimmer head for easy sideburn and mustache shaping.
Information
Number Of Interchangeable Heads 
5 
Power Source 
Rechargeable Battery 
* Your review is now being Processed and will be Published Soon !