Logitech G610 Orion Red Mechanical Gaming Keyboard, English, Black, 920-008152
* Prices Including VAT 15%
G610 Orion Red integrates powerful gaming technologies into a performance-driven design. Expertly engineered G610 Red brings Logitech G's industry-leading construction quality and technology to this uniquely crafted keyboard
read more
Description
Key Features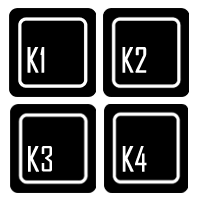 ---
Logitech G610 Orion Red Mechanical Gaming Keyboard
G610 Orion Red integrates powerful gaming technologies into a performance-driven design. Expertly engineered G610 Red brings Logitech G's industry-leading construction quality and technology to this uniquely crafted keyboard. Every detail has been masterfully designed—fingerprint-masking matte texture, durable braided cable, and powerful features.
Cherry MX mechanical switches
Cherry MX mechanical switches are standard on mechanical keyboards. More consistent in feel and responsiveness, they last longer than rubber dome keyboards. These low-noise switches have a linear keypress for rapid-fire actuation. Cherry MX switches are rated to over 50 million keystrokes and actuate precisely for a reliable gaming experience.
Customizable Key Lighting
Choose your level of customization by selecting and personalizing each individual key light, using Logitech Gaming Software. Keep track of spells and other commands with light up keys.
Media Control At Your Fingertips
Stay in your game while you control your background track. G610 keyboards feature dedicated media controls that can be used to play, pause, and mute music and videos instantly. Skip to the next song with the touch of a button, or use the roller to adjust the volume.
Information
Keyboard Language 
English 
Dimensions (L x W x H) 
153 x 443.5 x 34.3 mm 
* Your review is now being Processed and will be Published Soon !