Description
Key Features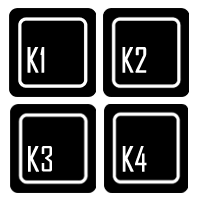 ---
Cougar Ultimus RGB Mechanical Wired Gaming Keyboard
You need quick access to all your skills, abilities and commands during the game, and to do so, you need to know where they are. Ultimus RGB helps you with that by allowing you to customize its backlight and assign different colors to different commands, and store up to 5 different modes to fulfill your needs in different games.
Rock-Solid Metal Structure
When you buy in a piece of gaming gear, you want it to be sturdy, durable and stable. Ultimus RGB delivers in all three areas with its metal frame and internal plate. Strong like no other, it stays in its place even when you subject it to powerful keystrokes in the heat of battle. It doesn't matter how bad things get; Ultimus RGB will stay put, ready to serve you.
Mechanical Switches
Has a stuck key, or a keystroke that didn't register, ever cost you a match? With Ultimus RGB that's a thing of the past. Equipped with mechanical switches, this keyboard offers both total reliability and clear tactile feedback that lets you know when your input has been registered.
RGB Backlight
Easy to configure and highly useful, Ultimus RGB lets you choose one of the preset modes to enjoy an amazing spectacle or choose the colors of the keys (one by one, if you want!) to indicate different functions or suit your tastes. Irrespective of what you do, the exposed switch design and the metallic surface will remark the light and improve the overall look!
Information
Keyboard Language 
Arabic and English 
Dimensions (L x W x H) 
180 x 445 x 40 mm 
* Your review is now being Processed and will be Published Soon !