Ben 10 Power Up Heatblast Action Figure Toy With Lights & Sounds, 76600-A
* Prices Including VAT 15%
The Power-up Heatblast action figure toy in highly detailed and articulated shape, with backside press button for active lights and sounds.
read more
Description
---
About Heatblast
Heatblast has the ability to generate and manipulate intense heat and fire from his body. He can form fire into any shape that he chooses, commonly fireballs. He can enhance the fire in his hands for flaming punches. Heatblast can create a small fire board on which he can ride at high speeds by launching fire backward like an engine.

Heatblast's Weapons
Heatblast is fireproof, as well as heat resistant and invulnerable to magma. Interestingly, he is also cold resistant and ice proof. He has enhanced strength and durability, he can also survive being thrown through multiple buildings at high speed with no damage. Plus, he can swim and use his powers underwater.
The Design
Highly detailed, uniquely sculptured and fully articulated with a composition of a bright yellow body covered by red rocks. As a fire-based entity, his body radiates high amounts of heat. His feet have a slight oval-like design with only two toes. It also comes with a backside press button for active lights and sounds.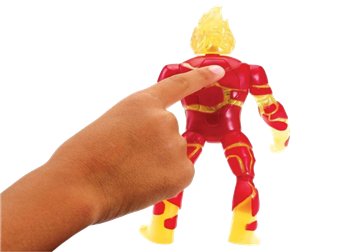 Specifications
* Your review is now being Processed and will be Published Soon !